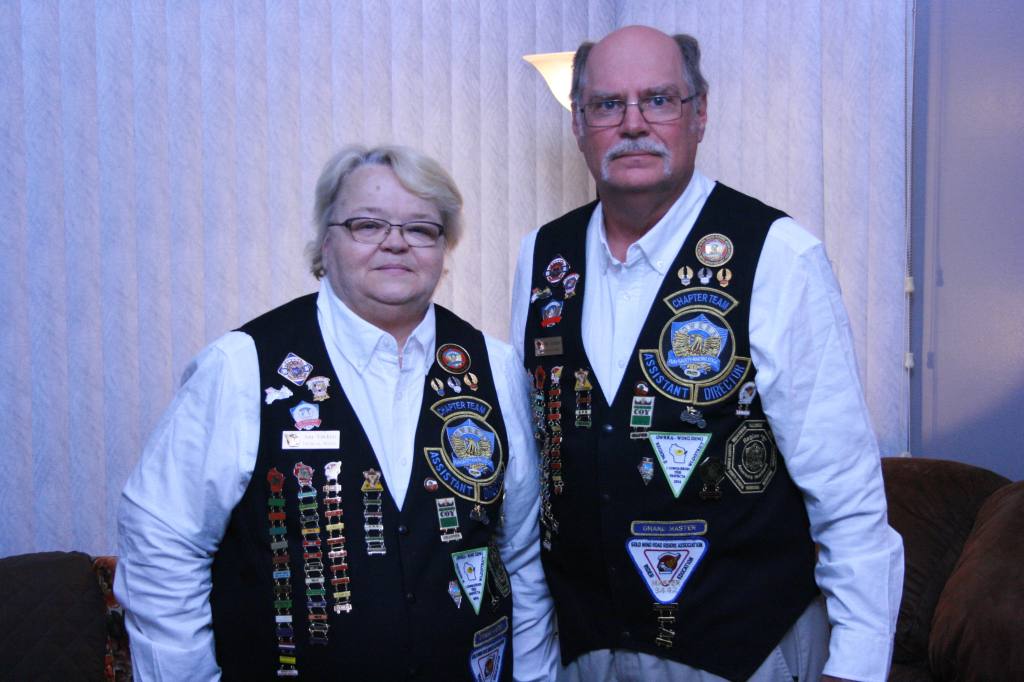 WELCOME!!!
Thank You for visiting our Chapter "C" Website. Bob and Judy, as Chapter Directors, would like to extend a warm "Goldwing" welcome to you. Our Mission statement:
"Friends for Fun, Safety and Knowledge"

We are an area Chapter of more than 80 members of the Goldwing Road Riders of America. Our Chapter belongs to Region "E" and the Wisconsin District. As GWRRA members we are assigned to a geographic chapter, but we are able to participate in events, of our liking, in all 17 Chapters with all 1700 District members.

We are a group of motorcycle riders of all ages and backgrounds. Our motorcycles are primarily Honda Goldwings, but we welcome all motorcycles of any brand. We are a very friendly and caring chapter. We enjoy riding, visiting and meeting new friends.

We would like to highlight a few pages for you to check out on our website, such as; calendar, staff, photos, events, Our History, Who Am I?, and Meet a Chapter Member.

We have a variety of activities for our members to participate in. Some members participate in many activities, some just a few, some choose just 1 or 2, it does not matter.
What do we do or what do we offer?
Here is a synopsis of some of our activities.

In the spring, summer, and fall, we ride. We have socials/breakfasts during the winter. Sometimes we "ride for pie". Yes, you're right, why not--we never can turn down a chance to ride for pie, ice cream, or any reason to get out on our beautiful wings. We have rides for the "fortunate souls". Yes, the lucky ones--retired members who can ride during the week. We also try to support our Gold Wing Riders by riding in parades throughout the state.

We plan trips when the weather cooperates and sometimes when it doesn't. We go to Missouri, Michigan, the Carolina's, Maine, Canada, Florida, Niagara Falls, Iowa, Arizona, New York, Washington D.C., the Dakotas, Alaska and many more.

We educate our members on safety issues to be more alert and knowledgeable. We attend seminars and riding classes to increase our skills.

Whenever any of our members are in need of any help in anyway, we always are there for support during the good times and the bad.

We volunteer our services by raising monies for local groups like: Veterans Memorial in Oshkosh, ARC in Fond du Lac and this year for the American Red Cross. We have brat fry's to help these organizations out. We support "Race the Lake". This is a 92 mile bicycle race around Lake Winnebago helping 1300 competitive bicyclists in riding to raise monies for many non-profit organizations in WI communities.

Oh, and don't forget about "C-More Wings", our Chapter "C" mascot. He is our adopted sea lion from the National Wildlife Association. He will be joining us on our rides this summer. You will see pictures of "C-More" posted on our Website.

Yes, we offer activities for everyone. We would like to extend an "Open Invitation" to attend any of our events just to "Try us out". You may not know a single one of us prior to the event, but I guarantee you that before you leave, you will have made many new friends and visited with the entire group at the event. We would even volunteer to come and meet you prior to the event to make things more comfortable for you. Think about it! If you have any questions, you can contact anyone on the staff; our e-mail address is listed under the Staff section of the website.

We hope you will consider joining us on a ride or at a social.

Ride Safe My Friends!!

Bob and Judy Von Rotz
Chapter "C" Directors
GWRRA-WI-C